The creation of Pookchurch Vineyard has been, and continues to be, the work of many.
The vineyard design and planting process was undertaken by Darcy, James, Chris and Joel at Vine Works Ltd, who also erected our trellising system. The Vine-Works team was here all last season to help with ongoing viticultural jobs, and we look forward to welcoming them back again this coming season.
Land preparation and site management has been overseen by Matthew and Mandy at Complete Land Management (CLM), who continue to provide invaluable support to the project.
Our vineyard consultant Peter Hayes has been there throughout to provide indispensable advice, and Stephen Skelton has also been on hand to provide a useful sanity check.
Over 4 kilometres of deer fencing and gates took some time and effort to complete, and much of it was put up by Tim Bennett Fencing. Tim Bennett has also done lots of hedge planting around the site, providing some much needed windbreaks!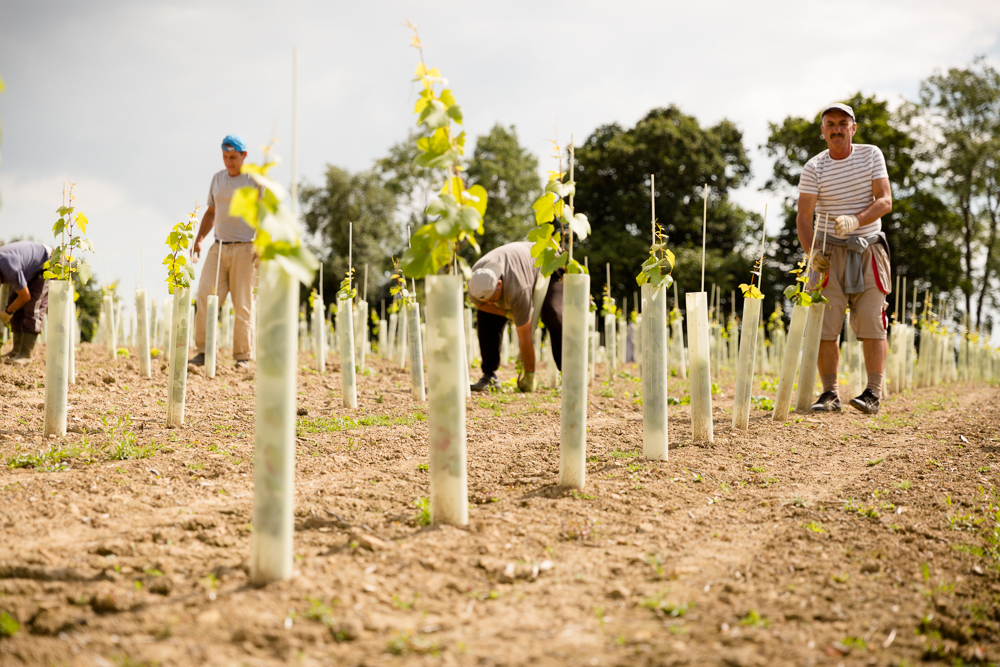 Fertiliser spreading had been undertaken by Steve Pack, who will be back in the Spring to do some compost spreading. Our agronomist Julian Searle continues to advise on how best to maximise the quality of our site.
The drainage system for the lower fields amounted to 16 kilometres of trenching and pipes, and was installed by Graham from G&S Browns and designed by John Vince at Drainage and Groundwork.
Ongoing tree trimming and thinning had been performed by tree surgeon Kevin Rodgers. Our general purpose building, as well as bridleway and access surfacing, was done by R&B Construction.
Planning and Landscape advice throughout the process has been provided by Dale from Dowsett Mayhew and Andrew at Ramsay & Co.
The Pookchurch brand and this website have been designed by BD Creative, and Sam Moore at Visual Air and Phil Hardman have contributed many photos and images.
Many thanks to everyone involved for their help in bringing Pookchurch to life!